With the advent of COVID-19, even healthcare professionals experience stress, anxiety, and uncertainty in times of adversity, and that's okay! To help mitigate and manage feelings of stress and anxiety, the Library team has compiled 3 lists of apps, e-Books, and online resources to help promote positive mental health, mindfulness, and a personal sense of calm.
5 Apps to Ease Anxiety and Stress
Headspace is a mindfulness meditation app designed to guide the user through meditations for a variety of different contexts, including work, sleep, stress and anxiety.  Headspace has recently released a specific meditation guide to support the community through COVID-19. Access these resources here: https://www.headspace.com/covid-19
Clear Fear is a free app designed to help the user face anxieties, providing techniques and activities based around Cognitive Behavioural Therapy. The app includes a journaling component to help track your thoughts and feelings throughout difficult times.
Smiling Mind is a free app that was developed by psychologists and educators to help bring balance to the user's life. With meditation programs specialized for adult users, work stress, and multiple language options, this app can assist in calming anxieties and obtaining an optimistic outlook.
Designed to help the user do exactly as it says: stop… breathe… and think. It's easy to get carried away by anxieties, and taking time for oneself to reflect can help bring back balance and calm.
Advertised as the number 1 top free app for sleep, anxiety, and stress. Insight Timer has a wide selection of meditation topics, categories, and programs to address whatever the user might be facing. They're also beta-testing team programs to increase community spirit within the app.
5 e-Books to Ease Anxiety and Stress
To access these e-Books you must be located at a Unity Health Toronto site. If you are off-site you must first login remotely. Please contact the IT Help Desk for support.
"Carers are particularly vulnerable to feeling stressed, worried and worn down by the vast demands that often come with caregiving, be they physical, psychological or emotional. Mindfulness can be enormously beneficial to carers, whether professional or voluntary, as a means of developing greater inner stability, resilience and gaining more control over their thoughts, feelings, and emotions."
This comprehensive guide goes into detail discussing and reviewing theories and concepts behind mindfulness, understanding fear, trusting one's own experiences, mindfulness-based interventions, and more. Perfect for a reader who is interested in an academic perspective on mindfulness.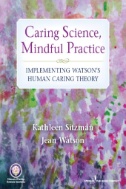 "Caring Science, Mindful Practice offers unique and practical project examples that nurses will consider for their practice or educational settings. With its integration of Watson's caring science and mindfulness principles, Sitzman and Watson have extended knowledge of Watson's caring science and caritas processes through integrating Thich Nhat Hahn's mindfulness perspective and practices.".
This work is structured to help healthcare professionals develop the tools needed to be able to manage stress and develop resilience. Resilience at work can help support health workers' personal well-being. Providing tools, questionnaires, concept models, and descriptions of the kinds of support systems needed to have a balanced personal and professional life.
5 Online Resources to Ease Anxiety and Stress
Library Services staff at Unity Health Toronto have curated a list of resources to support health and wellness for Health Professionals. This online resource guide provides information to support health workers' personal health and wellness for day-to-day practice and in trying times.
CAMH has put together a series of articles to help the community understand, and develop strategies to cope with stress and anxiety caused by COVID-19.
Canada Mental Health Association's page for COVID-19 provides a list of resources on how to respond to employee anxiety around COVID-19, how to offer support throughout these stressful times, and suggests reliable sources to find information on the virus.
The APA has created a guide designed to help individuals build resilience. Personal resilience can help support and provide calm for individuals when life brings unexpected twists and turns.
HeretoHelp allows you to look for resources from two perspectives, to support yourself, or to help support others. They have developed a guide to support our communities throughout COVID-19. This guide walks the reader through how to take care of one's self amidst the pandemic, how to help others and resources to support anxiety management.
If you have any questions about these resources feel free to contact kaitlyn.merriman@unityhealth.to. The Library team wishes all health, happiness, and peace of mind!